Idiocracy in Motion
Most people haven't seen
Idiocracy
, the mildly funny, future shock film by Mike Judge about the de-evolution of the human brain in America, and society is dumbed down to the point where they use sports drinks on their crops. Now, I'm not too sure I want to recommend it. But he's proving to be correct at least on the future of coffee shops. This 19 second clip sets the scene.
A "Chicka Latte" stand just opened up across the street from my work on Aurora Ave. While before I didn't see anything wrong with it, I now believe that "hot chicks selling coffee" is way too much of a crass enterprise now...... contributing to the already pandemic pollution of our collective unconsciousness, and I would like to formally switch over to
westering hills
's side of the debate, if I may.
You win, in a big way.
Seriously, big fuckin' ew. I mean selling with sex is as American as chewin' on a Big Mac while driving a pickup truck to the mall to get shoes at Foot Locker. But it's worse than I thought. It's like a cross between being a stripper and working at Chotskies...
I think this is the manager.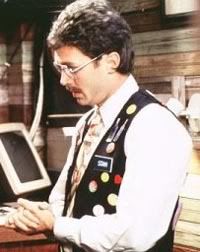 Look, we want you to express yourself, ok? If you think the bare minimum is enough, then ok. But some people choose to wear less and we encourage that, ok? You do want to express yourself, don't you?
According to their creepy website, which I'm questioning my wisdom for checking:

All baristas receive a generous uniform allowance. Upon being selected as a ChickaLatte Beautiful Coffee barista, you can choose from a wide array of outfits that best reflects your personality.


I'll spare you the pix, but think Frederick's of Hollywood or Lover's Package.
S
ol

d

i

e

r

G

i

r

l

3

-pc. S

ho

rts Set
Football Girl

-
This Tight End is quick to make a pass and loves to huddle...
Police Officer Uniform

8-piece set, Includes Policeman's HAT, Stretch Spandex zipper front Policeman's JACKET, SHORTS, police HANDCUFFS, black police BELT, police officer BADGE, WALK-TALKIE and Police Officer's BATON...
I think I'm going to join the Republican Party now. Wait. Ohhh shit.
it gets worse......
STARS and STRIPES
Tri Top and Hip Hugger Sets
Blue tri top with white stars and stars and stripes hip hugger booty shorts...